The Government Transparency Institute (GTI) is a non-partisan think tank researching and advocating good governance. Born from the research and civil society activism of its founder Mihály Fazekas, the Institute was founded in Budapest in 2015 to provide an independent, research-driven voice to the causes of transparency, anti-corruption, and good-governance in Europe and beyond. It is financed by private donations, European research funds, and government contract work, and works independently of political parties or special interest groups. The aim of the Institute is to better understand the causes, characteristics, and consequences of low-quality governance with interdisciplinary analysis, drawing on political science, economics, law, and data science.
We help citizens and companies hold their governments accountable through the publication of novel datasets and robust analyses. Our unique research approach uses Big Data, econometrics, and qualitative methods to understand micro-behaviour, macro-outcomes, and the links between the two. Our main themes include corruption, collusion, spending efficiency, administrative quality, public procurement, and legislative processes. We believe that the combination of  a thorough qualitative understanding and precise quantitative measurement of the state is the foundation of good governance.
---
Staff
Mihály Fazekas, director & founder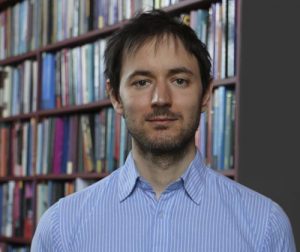 Mihály Fazekas is an assistant professor at the Central European University, School of Public Policy, with a focus on using Big Data methods to understand the quality of government globally. He is the scientific director of GTI, while serving as a non-resident research fellow at the University of Cambridge and senior research associate at the University College London. He has a PhD from the University of Cambridge where he pioneered Big Data methods to measure and understand high-level corruption in Central- and Eastern Europe.
His research and policy interests revolve around corruption, favouritism, private sector collusion, and government spending efficiency. Methodologically, he has experience in both quantitative and qualitative methods in diverse fields such as public policy, economics, and political science. He worked at the University of Cambridge as the scientific coordinator of the Horizon 2020 funded project DIGIWHIST which used a Big Data approach to measuring corruption risks, administrative capacity, and transparency in public procurement in 33 European countries. He also serves as a co-Principal Investigator on the British Academy/DFID funded research project looking at anti-corruption in development aid funded procurement. He regularly consults the European Commission, Council of Europe, EBRD, OECD, World Bank, and range of national governments and NGOs across the globe. Together with Bence Tóth and István János Tóth, he was awarded on two occasions the first prize in the U4 Anti-Corruption Resource Centre competition for the best new proxy measure of corruption.
Ágnes Czibik, managing director
Ágnes Czibik is the managing director of GTI. She holds a master's degree in economics with a specialisation in public policy and applied statistics. Her field of expertise is using large administrative datasets and robust quantitative analysis to provide tools for evaluating government performance and promoting transparency in the field of public procurement. She gained experience in working with various public procurement datasets across Europe while working in the large-scale Horizon2020 funded research project DIGIWHIST.
Bence Tóth, senior analyst
Bence Tóth is a PhD candidate at UCL SSEES and a senior analyst at GTI. He was working on the DIGIWHIST research project based at the University of Cambridge, where he assisted the collection and publication of public contracting data from 35 jurisdictions across Europe and building indicators of administrative capacity and integrity. Currently, he works on the British Academy/DFID funded research project looking at anti-corruption in development aid funded procurement. He is also frequently involved in policy research projects for the European Commission, World Bank, European Investment Bank, and various NGOs.
Together with Mihály Fazekas, he was awarded the first prize in the U4 Anti-Corruption Resource Centre competition for the best new proxy measure of corruption. His research focuses primarily on measuring corruption and  collusion risks in public procurement markets using large-scale contract and company level data. His  PhD research is about informality in locally managed public procurement contracts where informal enforcement and local information have particular importance in contract governance.
Johannes Wachs, analyst, programmer
Johannes Wachs is an analyst and programmer at GTI and a PhD candidate at the Department of Network and Data Science at Central European University under the supervision of Janos Kertesz. In his thesis he applies network science methods to better understand corruption and collusion in public procurement markets. He is also interested in the use data from the web to better understand the emergence of concepts like novelty or bias. He has been a visiting PhD student at the Oxford Internet Institute and the Hertie School of Governance in Berlin. From March 2019 he will be a post-doctoral fellow at the Chair for Computational Social Sciences and Humanities at RWTH Aachen.
Nóra Regös, analyst
Nóra Regös works as an analyst at GTI. She has a master degree in economics and business administration with a specialisation in public policy from Universitat Autonoma in Barcelona and a master degree in sociology from ELTE Budapest. Her main research interests focus on policy evaluation and government performance monitoring. At GTI she is mainly involved in the project "Monitoring, Evaluation and Learning in Latin America" (MEL), which aims to evaluate the current state of open
contracting in the field of public procurement in Mexico, Chile and Columbia. Besides, she contributes to other projects of the Institute in the area of good governance assessments and efficiency calculations using Big Data methods.
Isabelle Adam, analyst
Isabelle Adam works as an analyst at GTI. She graduated in Global Public Policy at Central European University in Budapest and IBEI Barcelona, focusing on the governance of development. Previously, she studied Global Project and Change Management at Windesheim Honours College in Zwolle, the Netherlands, and gathered experience abroad in countries such as Uganda, Madagascar and Bolivia conducting field research and working in local NGOs. She works on the DFID-funded research project looking at anti-corruption in government procurement and is involved in research projects looking into the impact of transparency reforms and ways to detect collusion in public procurement.
Erika Lukács, analyst
Erika Lukács joined GTI as an analyst after graduating from Central European University. She holds a master's degree in Economic Policy. She did her bachelor in Finance at Corvinus University. During her studies, she developed an interest in good governance and in performing policy analysis using empirical methods. She is currently involved in a policy research project for the European Commission.
Ahmed Alshaibani, data scientist
Ahmed Alshaibani works as analyst at GTI. He graduated as an MA student of Economic Policy at the Central European University and has a background in Business Management and Programming. His research interests revolve around macroeconomics, corruption, and development.
Aram Khaghaghordyan, lawyer, analyst
Aram Khaghaghordyan is a lawyer and policy analyst with a particular focus on anti-corruption, compliance, and public procurement. Currently he works as an anti-corruption consultant for the UNODC Regional Office for Southeast Asia and the Pacific, and the Directorate General Human Rights and Rule of Law of the Council of Europe. He is a PhD candidate at the Hertie School of Governance where he analyses compliance and implementation of international anti-corruption treaties by 49 GRECO member states.
Previously he was the coordinator of the European Research Centre for Anti-Corruption and State-Building (ERCAS) at the Hertie School of Governance in Berlin where he was team manager for several large-scale research projects, such as EU FP7 ANTICORRP, EU FP7 MEDIADEM, Horizon 2020 DIGIWHIST. As part of DIGIWHIST he created EuroPAM (European Public Accountability Mechanisms), a data collection effort that produces yearly assessments of in-law and in-practice efforts across 34 European countries in the fields of conflict of interest, public procurement, financial disclosure, party financing and freedom of information. Aram also managed Civil Society against Corruption (CSAC), a social learning platform for civil society initiatives, projects and around 250 organisations active in the fight against corruption with a special focus on Eastern European countries. He was invited as an expert to speak at different international events by international organisations/actors like the European Parliament, OECD, UNODC, UNDP, CoE, ReSPA and International IDEA.
Bálint Szalai, journalist
Bálint Szalai is a Fulbright-Humphrey Fellow at the Walter Cronkite School of Journalism and Mass Communication, Arizona State University. Prior to moving to the US, he worked for Index.hu, the most popular Hungarian news site, as an investigative journalist in Budapest, mainly focussing on corruption and fraud issues. In 2015, he won the biggest Hungarian award for investigative journalism, the Gőbölyös Soma Award, for describing how the Ukrainian mob can sell tens of thousands of Hungarian citizenships to Russians. He was also awarded with the Eörsi János award in 2012 for describing how the state messed up a serious mobile phone frequency tender. He did his MA in Business Administration at the Corvinus University of Budapest.
Yuliia Kazmina, analyst, programmer
Yuliia Kazmina is an analyst and a programmer at GTI and a Master of Arts candidate in Economic Policy at Central European University. Her research focuses primarily on behavioral patterns of market participants, measurement of corruption, and enhancement of competition in public procurement systems. One of the main projects Yuliia has worked on in this field was the development of data-driven policy-making in ProZorro / ProZorro.Sale, Ukrainian public procurement and privatization projects. At GTI, Yuliia currently works on research projects for the European Commission, EBRD and European Investment Bank.
---
Main clients, partners and supporters